Christian Bendicks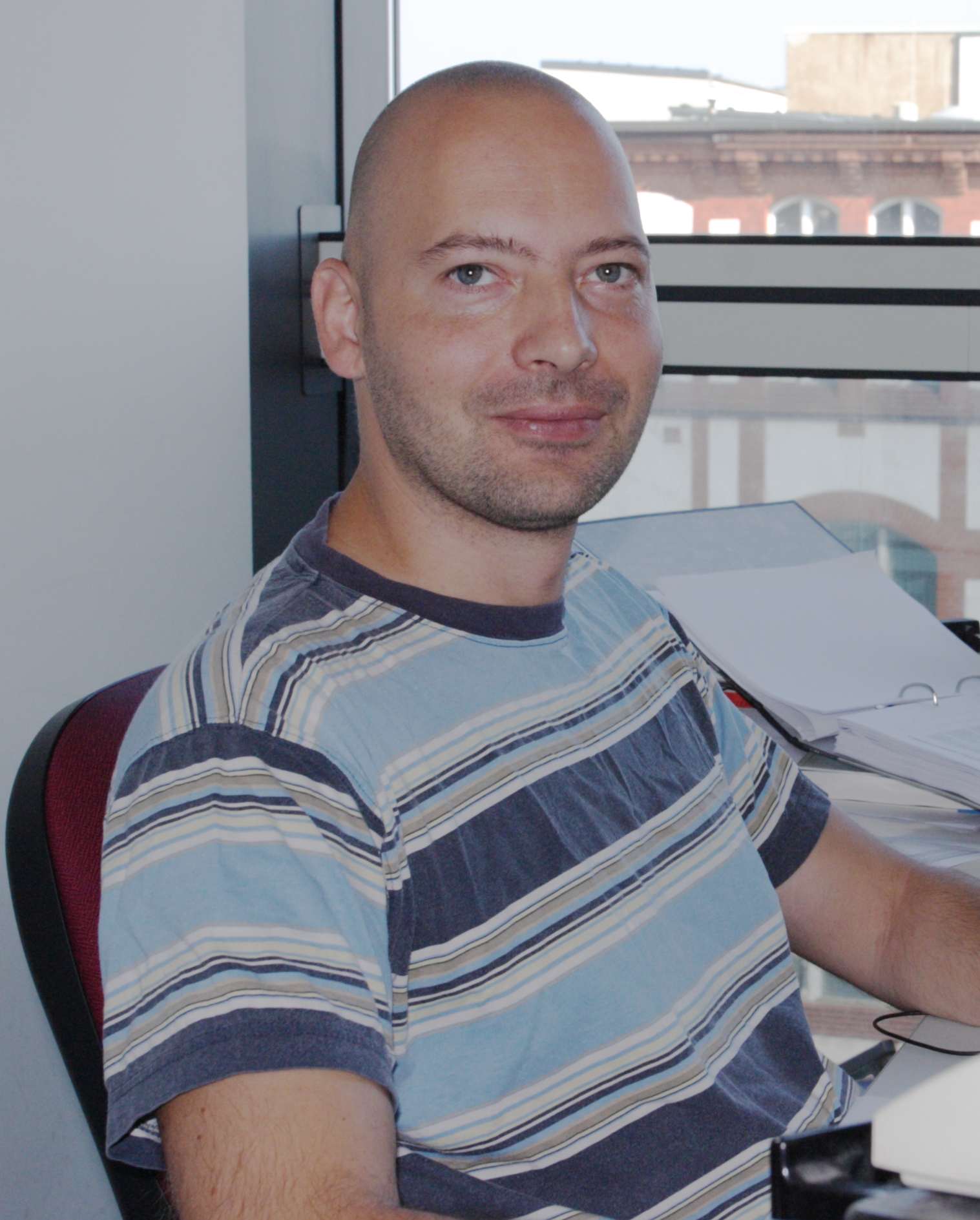 Dr.-Ing. Christian Bendicks
Fachgebiet Neuro-Informationstechnik

Gebäude 09, Universitätsplatz 2, 39106, Magdeburg, G09-316
Curriculum Vitae
Christian Bendicks graduated as an engineer for Computational Visualistics at Otto von Guericke University Magdeburg in 2004.
In 2005 he worked as programmer for robot control an automated fluorescence microscopy to acquire and explore 3-d toponome data at the Institute of Medical Neurobiology of University Clinic Magdeburg.
Since 2006 Christian Bendicks is scientific assistant at the Institute for Information Technology and Communications (IIKT) formerly known as Institute of Electronics, Signal and Communication Engineering (IESK).
In 2008 he started his doctorate in the field of 3-d Particle Tracking Velocimetry and received the doctor's degree in November 2011.
Research Focus
Photogrammetry
Camera Calibration
Optical 3D measurement systems
Particle Tracking Velocimetry (PTV)
Projects
Publications
Nagaraj, Y., Bendicks, C., Matthies, Ph., Friebe, M.:Advanced inside-out tracking approach for real-time combination of MRI and US images in the radio-frequency shielded room using combination markers, 38th Annual International Conference of the IEEE Engineering in Medicine and Biology Society (EMBC),DOI: 10.1109/EMBC.2016.7591252, 6-20 Aug. 2016, 2558-2561
Freye, C., Bendicks, C., Lilienblum, E., Al-Hamadi, A.: Optical Sensor Tracking and 3D-Reconstruction of Hydrogen-Induced Cracking, Advanced Concepts for Intelligent Vision Systems, LNCS 9386, Springer, 2015, 521-529
Freye, C., Bendicks, C.,Lilienblum, E., Al-Hamadi, A.: Multiple Camera Approach for SLAM Based Ultrasonic Tank Roof Inspection, Image Analysis and Recognition, LNCS 8815, Springer, 2014, 453-460
Roloff, C., Berg, P., Bendicks, C., Zähringer, K., Janiga, G., Thévenin, D.: Flow investigation inside a cerebral giant aneurysm , 17th International Symposium on Applications of Laser Techniques to Fluid Mechanics, Lisbon, Portugal, 330/1-8, 2014
Bendicks, C., Lilienblum, E., Freye, C., Al-Hamadi, A.:Tracking of a Handheld Ultrasonic Sensor for Corrosion Control on Pipe Segment Surfaces, Advanced Concepts for Intelligent Vision Systems, LNCS 8192, Springer, 2013, 342-353
Bendicks, C., Calow, R., Lilienblum, E., Michaelis, B.:Positionsbestimmung eines handgeführten Ultraschallsensors zur Kartierung von Rohrwanddicken, 3D-NordOst 2012 6-7 Dezember, ISBN 978-3-942709-07-1, GFaI, 2012, 7-16
Tarlet, D., Bendicks, C., Roloff, C., Bordás, R., Wunderlich, B., Michaelis, B., Thévenin, D.: Gas Flow Measurements by 3-D Particle Tracking Velocimetry using Coloured Tracer Particles, Flow, Turbulence and Combustion, 2012, 88, 343-365
Bendicks, C., Michaelis, B.: Farbklassifikation kleiner Strukturen auf Bayer-Bildern, 17. Workshop Farbbildverarbeitung, 29-30.2011, Konstanz, 2011, 61-72
Bendicks, C., Tarlet, D., Roloff, C., Bordás, R., Wunderlich, B., Thévenin, D., Michaelis, B.: Improved 3-D Particle Tracking Velocimetry with Colored Particles, Journal of Signal and Information Processing (JSIP), 2011, Volume 2, Issue 2, 59-71
Roloff, C., Bendicks, C., Michaelis, B., Zähringer, K., Thévenin, D.:Particle tracking velocimetry with fluorescent micro-particles, XXV. MicroCAD, University of Miskolc, Hungary, 2011, 73-80
Bendicks, C.: Reduktion räumlicher und zeitlicher Mehrdeutigkeiten bei der Lagrange'schen Strömungsanalyse unter Verwendung farbiger Tracer, Diss. Univ. Magdeburg, Fak. für Elektrotechnik und Informationstechnik, 2011
Roloff, C., Bendicks, C., Michaelis, B., Tarlet, D., Thévenin, D., Zähringer, K., Wunderlich, B.: 3D-PTV in gas flows using flourescent micro-particles, 14th International Symposium on Flow Visualization, June 20-24 2010 Daegu, Korea, 2010, 11 pages
Bendicks, C., Tarlet, D., Michaelis, B., Thévenin, D., Wunderlich, B.: Use of Coloured Tracers in Gas Flow Experiments for a Lagrangian Flow Analysis with Increased Tracer Density, Pattern Recognition: 31st DAGM Symposium, Denzler, J., Notni, G., Süße, H. (ed.), Jena, Germany, September 2009, ISBN 978-3642037979, Springer, 2009, 5748, 392-401
Tarlet, D., Bendicks, C., Bordás, R., Wunderlich, B., Thévenin, D., Michaelis, B.: 3-D Particle Tracking Velocimetry (PTV) in gas flows using coloured tracer particles, Advances in Turbulence XII: Proceedings of the 12th EUROMECH European Turbulence Conference, Eckhardt, B. (ed.), September 7-10, 2009, Marburg, Germany, ISBN 978-3642030840, Springer, 2009, 43-46
Tarlet, D., Bendicks, C., Bordás, R., Wunderlich, B., Thévenin, D., Michaelis, B.: Coloured Tracer Particles Employed for 3-D Particle Tracking Velocimetry (PTV), Gas Flows Notes On Numerical Fluid Mechanics And Multidisciplinary Design: Imaging Measurement Methods for Flow Analysis, Nitsche, W., Dobriloff, C. (ed.), ISBN 978-3642011054, Springer, 2009, 106, 93-102
Tarlet, D., Bendicks, C., Bordás, R., Wunderlich, B., Thévenin, D., Michaelis, B.: Mesures par "particle tracking velocimetry" 3-d (PTV) gazeuse avec traceurs multicolores, 13éme Congrés Francais de Visualisation et de Traitement d'Images en Mécanique des Fluides, Reims, France, ISBN 978-2918241010, 2009, 8p.
Bordás, R., Bendicks, C., Kuhn, R., Wunderlich, B., Thévenin, D., Michaelis, B.: Coloured tracer particles employed for 3d-ptv in gas flows, 13th International Symposium on flow visualization, 01-04.07.2008 (Nice, France), 12 pages on CD, 2008
Bendicks, C., Michaelis, B., Hofmann, M., Mecke, R.: Photogrammetrische Erfassung und Simulation formveränderlicher Oberflächen, 8. Magdeburger Maschinenbau-Tage, ISBN 978-3929757125, Universität Magdeburg, 2007, 245-252
Hofmann, M., Mecke, R., Bendicks, C., Michaelis, B.: Modellunterstützte photogrammetrische Vermessung dynamischer Oberflächen, Photogrammetrie - Laserscanning - Optische 3D-Messtechnik Beiträge der Oldenburger 3D-Tage 2007, ISBN 978-3879074471, Wichmann-Verlag, 2007, 12-19
Hofmann, M., Mecke, R., Bendicks, C., Michaelis, B.: Modellbasierter Ansatz zur dynamischen 3D-Vermessung formveränderlicher Oberflächen, Tagungsband 3D-NordOst: 10. Anwendungsbezogener Workshop zur Erfassung, Modellierung, Verarbeitung und Auswertung von 3D-Daten, ISBN 978-3980921299, Gesellschaft z. Förderung angewandter Informatik, 2007, 47-54
Oeltze, S., Bendicks, C., Behrens, S., Preim, B.: Multiparametervisualisierung zur Exploration dynamischer Bilddaten, Bildverarbeitung für die Medizin 2005, ISBN 978-3540250524, Springer, 2005, 317-321