Automatic Pain Recognition based on Facial Expression and Psychobiological Parameters
The assessment of acute pain is one of the basic tasks in clinics. To this day, the common practice is to rely on the utterance of the patient. For mentally affected patients this is little reliable and valid. For non-vigilant people or newborns it cannot be used at all. However, there are several characteristics that indicate pain. These include specific changes in the facial expression and in psychobiological parameters like heart rate, skin conductance or electrical activity of skeletal muscles.
We are working towards an automatic system, which can distinguish whether a patient feels pain or not, and can assess the intensity of the pain. Based on experiences in facial expression recognition our system can distinguish facial expressions of pain from others and rate the intensity of the expression. In the current comprehensive study, we investigate the relations between pain, the facial expressions and the psychobiological feedback. The results are used to improve the robustness, reliability and validity of our system. Further, the data recorded in the study, which is named BioVid Heat Pain Database, is available to the scientific community. In the project, we collaborate with the Emotion Lab of the University of Ulm.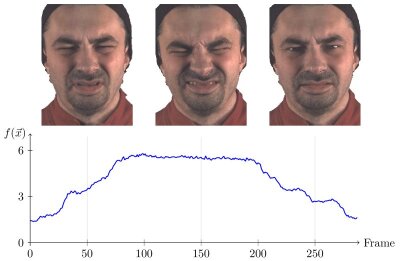 Contact: Philipp Werner, Ayoub Al-Hamadi